Mission
To nourish gifted / high ability students through a variety of gifted development programmes and events.
To explore and unleash the potentials of gifted students.
Rationale and Principles of Gifted Education Policy at BHJS
Exploring students' thinking and creativity abilities and social skills should be the foci of gifted education.
Stretching students' potential and striving for excellence.
The Three-tier Implementation Model for Gifted Education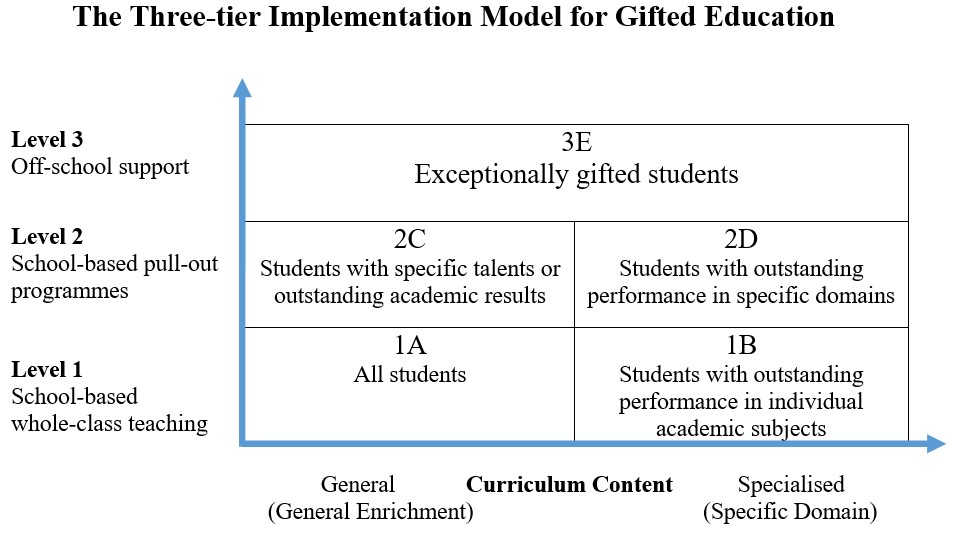 Talent Pool
A talent pool has been set up at BHJS. Teachers are invited to nominate students to the Gifted Education Committee for follow-up.
Some Highlights of Gifted Education Programmes & Events
English Language:
World Scholars' Cup(F.1-4)、Hong Kong Secondary Schools Debating Competition(F.1-5)、Hong Kong Schools Mock Trial and Mooting Competition(F.2-5)、Hong Kong Secondary Schools Model United Nations Conference(F.3-4)
Chinese Language:
Chinese Language Elites Scheme(F.1-3)
"Heng Yuan Xiang Stars of Literature" Secondary Schools Chinese Writing Competition (F.1-5)
Hu Lian Hu Tong Greater China Teenagers Chinese Writing Competition (F.1-6)
World Secondary Schools Debate Competition (Malaysia)(F.3-5)
Cultural Cup(F.5)
Hong Kong School Drama Festival(F.1-5)
Mathematics:
Enrichment Programme for Young Mathematics Talents (CUHK) (F.4-5)
HKU Summer Program(F. 4-5)
HKUST Dual Program(F.3-5)
Hong Kong Mathematics Creative Problem Solving Competition for Secondary Schools(F.1-2)
Hong Kong Youth Mathematical High Achievers Selection Contest(F.3)
Mathematics Olympiad(F.4-5)
Senior Secondary Mathematics and Science Competition (Poly U)(F.4-5)
World Class Tests(F.1-5)
Science:
Caring the Socially Vulnerable Groups – Innovative Technology Design Competition(F.5)
HKUST Dual Program (F.4-5)
Hong Kong Budding Scientists Award (F.3-5)
Hong Kong Chemistry Olympiad for Secondary Schools(F.4-5)
Hong Kong Student Science Project Competition (F.2-5)
Senior Secondary Mathematics and Science Competition (Poly U)(F.4-5)
International Science Junior Olympiad (IJSO)(F.2-3)
Project Alpha(F.1-5)
Leadership Enhancement:
Qingyuan Service-Learning Experience Programme(F.4-5)
Leadership Training Scheme for School Prefects(F.3-5)
Leadership Training Scheme for Students Union Committee Members(F.4-5)
Others:
Odyssey of the Mind Competition(F.2-5)
Hong Kong Youth Music Interflow(F.1-3)
Winter Choral Festival (F.1-6)
Hong Kong Inter-School Choral Festival(F.1-6)
Hong Kong School Music Festival (F.1-6)
Joint School Music Competition(F.1-6)
A.S. Watson Hong Kong Student Sports Awards(F.4-6)